WEDDING VENUE INSPIRATION:
Looking for a Southern Highlands wedding venue with historic charms and a garden setting for your wedding ceremony? Consider taking the drive down to Sutton Forest to check out Peppers Manor House. Peppers Manor House is a wedding venue that has everything you need for your wedding day in the one beautiful location... set just outside of Moss Vale on a sweeping estate covered with manicured lawns and hedged gardens and a luxury golf course, Peppers Manor House offers pretty outdoor garden locations plus the rustic elegance of the main reception room in the main Manor House.
Peppers Manor House is set on a country estate in the rolling green hills of the Southern Highlands. The charismatic retreat creates a great first impression as you drive through the estate gates. There's a certain style and elegance that lends a magical atmosphere to the occasion and the intimate and grand settings are meticulously maintained. Conveniently located just an hour and a half from Sydney and less than two hours from Canberra, Peppers Manor House caters for intimate weddings of two, to a traditional grand wedding with 180 guests, with a variety of ceremony and reception areas.
Peppers Manor House is your perfect Southern Highlands wedding venue if you love:
vintage glamour of historic houses,

hedged and manicures gardens for your ceremony,

pretty garden gazebo ceremony option

old world charm and elegance for your formal wedding reception dinner,

casual bar and lounging area,

separate party area/ downstairs bar & dance floor,

exclusive access to your wedding venue,

onsite accommodation for the Bridal party to get ready

full hotel style accommodation for guests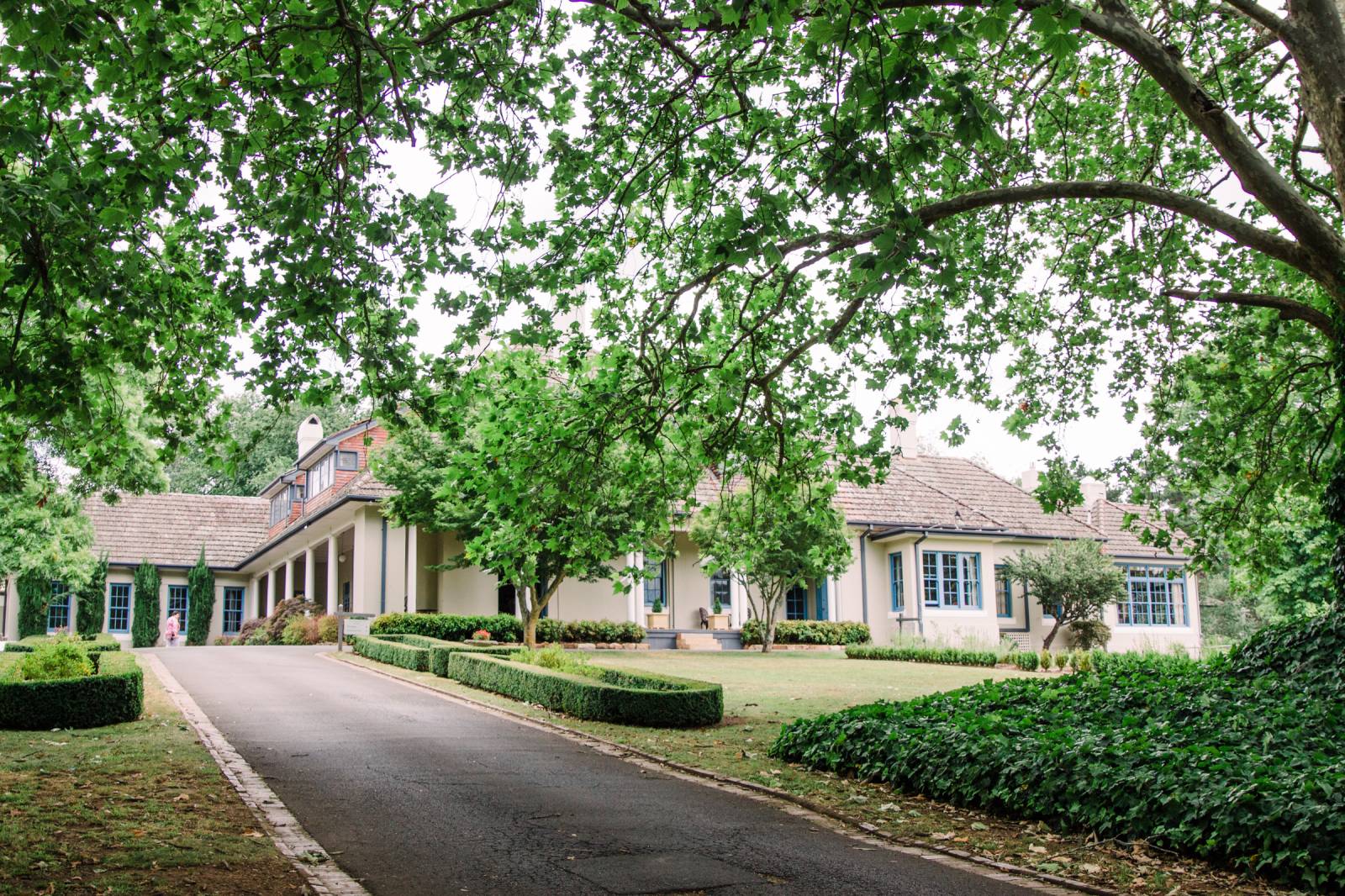 Getting Ready for your Wedding Ceremony
Every Bride at Peppers Manor House is given special access to a private bridal retreat area, which is located upstairs via the grand stair case from the main lobby. This pretty little spot is a little loft with windows that open out above the main entrance looking out over the garden gazebo. There are so many gorgeous places in the Manor House for your photographer to hang and photograph your wedding dress and accessories... the natural light is just amazing!
This is the place where you do all of your finishing touches to your hair and makeup and get into your amazing gown, then gather your nerves before being led from the main Manor House and out into the garden where your future Husband and all your guests are patiently awaiting your big arrival. Make your big entrance from the grand front door and come across the covered verandas and out across the sweeping lawns to your wedding ceremony location out in the manicured gardens surrounding the historic Manor and overlooking the green pastures of the surrounding estate.
Relaxed Bar & Lounging Area
Peppers Manor House is a wedding venue that can accommodate the needs of all of your guests... there are so many little places in the main lobby area to sit and have a quiet coffee and enjoy a conversation or a book. In winter the fireplaces are the favourite place to gather in front of and sink into the comfy armchairs, you definitely won't want to move from here... the rooms are all elegantly styled, comfortable and filled with natural light from the amazing stained glass cathedral window in the great hall. The impressive window overlooks a lovely paved courtyard leading to the restaurant and bar areas which has lots of outdoor seating options overlooking the manicured lawns, gardens and shady trees framing the buildings and views of the surrounding hills. Definitely a Lord or Lady of the Manor moment!
Wedding Reception - The Estate Room
Peppers Manor House provides the perfect location for couples looking for an elegant wedding celebration in a formal ballroom styled wedding reception room to accommodate up to 180 guests. The Estate Room The room main reception room is lit with beautiful vintage chandeliers and crystal wall sconces that look amazing when draped in fresh foliage hanging down above the crisp white tables.
The Estate Room features six chandeliers, old world paneled walls and black cathedral chairs for a classic understated elegant dining room that is perfect to dress up with amazing floral centerpieces. The side wall of the reception room features floor to ceiling glass doors that completely open out onto an alfresco terrace for your guests to enjoy, complete with an open fire, private bar, antique lounges and gorgeous views. The perfect lounging space for your guests to chill with a champagne in hand or for the men to enjoy a whiskey and a cigar out in the fresh air. The perfect place to wind down at the end of the night and catch up with all of those friends you haven't had time to speak to all day!
Foodie Heaven - Katers Restaurant
Katers Restaurant at Peppers Manor House has won a series of Chef's Hat awards over recent years and provides guests the very best of fresh, local Artisan produce. The Southern Highlands is a food lover's Mecca. From high country pork to locally grown truffles, to fine wines the region is truly spoilt... the Head Chef and his team create a menu featuring fresh local produce from as close as the estate's own gardens.
Garden Wedding Ceremony Options
Let the sweeping Southern Highlands provide the perfect backdrop to your ceremony on the Plane Tree Lawn or Summer House. The favourite place for couples at Peppers Manor House to say their vows is under the stunning canopy of the 100 year old London Plane Treeon the hedged gently sloping lawn that can seat up to 130 guests. The Summer House gazebo is loved by our smaller groups, offering a unique and secluded area within the extensive gardens for a private wedding ceremony.
The adjacent Games lawn is a special treat for your guests for a relaxed afternoon intermission of games on the shady lawn while the bridal party are having professional photos... The games lawn offers guests an area to relax and enjoy croquet, bocce or giant chess.
Wedding Accommodation Options
A wedding at Peppers Manor House is so much more than a picturesque venue for a wedding ceremony and reception. It's a stunning country estate retreat, perfect for a destination wedding, where you can celebrate for the whole weekend with your closest family and friends.
Accommodation can be arranged with packages available for you and your guests with 43 rooms available for your guests with all rooms styled to reflect a refined country escape that embraces the natural surroundings. Having your guests stay on-site is one of the many popular options Peppers Manor House can offer... It lets you spend more time with your guests and creates a fabulous weekend escape for your celebrations.
Kater Rd, Sutton Forest NSW 2577
www.peppers.com.au/manor-house/weddings/
enquiries:
(02) 4860 3111
I have gathered up some wedding inspiration videos for you so that you can get a great idea of what your wedding day hosted by Peppers Manor House will really be like and if it is for you! Enjoy!