WEDDING VENUE INSPIRATION:
Looking for an historic garden setting with a touch of Old world charm and elegance for your wedding? Consider taking the drive down to the Southern Highlands to check out Milton Park Estate. Milton Park is a wedding venue that has everything you need for your wedding day in the one beautiful location... set just outside of Bowral and on a sweeping estate covered with manicured lawns and hedged gardens, Milton Park Estate offers amazing outdoor garden locations as well as the french inspired elegance of the reception rooms in the main Hotel, The Orangerie and the grandeur of the stables inspired private reception room, The Ballroom.
Driving up the winding tree lined driveway leading up to Milton Park Estate, you can imagine your wedding photos being taken amongst the rolling mist through the hills and heritage gardens, the perfect sunset moment in the brisk afternoon.... Milton Park is one of the highest Estates in the Southern Highlands creating its own little secluded oasis, surrounded by bushland and lush green pastures it is definitely a photographers dream!
Milton Park Estate is your perfect Southern Highlands wedding venue if you love:
vintage glamour of historic houses,

hedged and manicures gardens for your ceremony,

indoor ceremony option

old world charm and elegance for your formal wedding reception dinner,

hotel bar and lounging area,

private access to your wedding venue,

onsite accommodation for the Bridal party to get ready

full hotel style accommodation for guests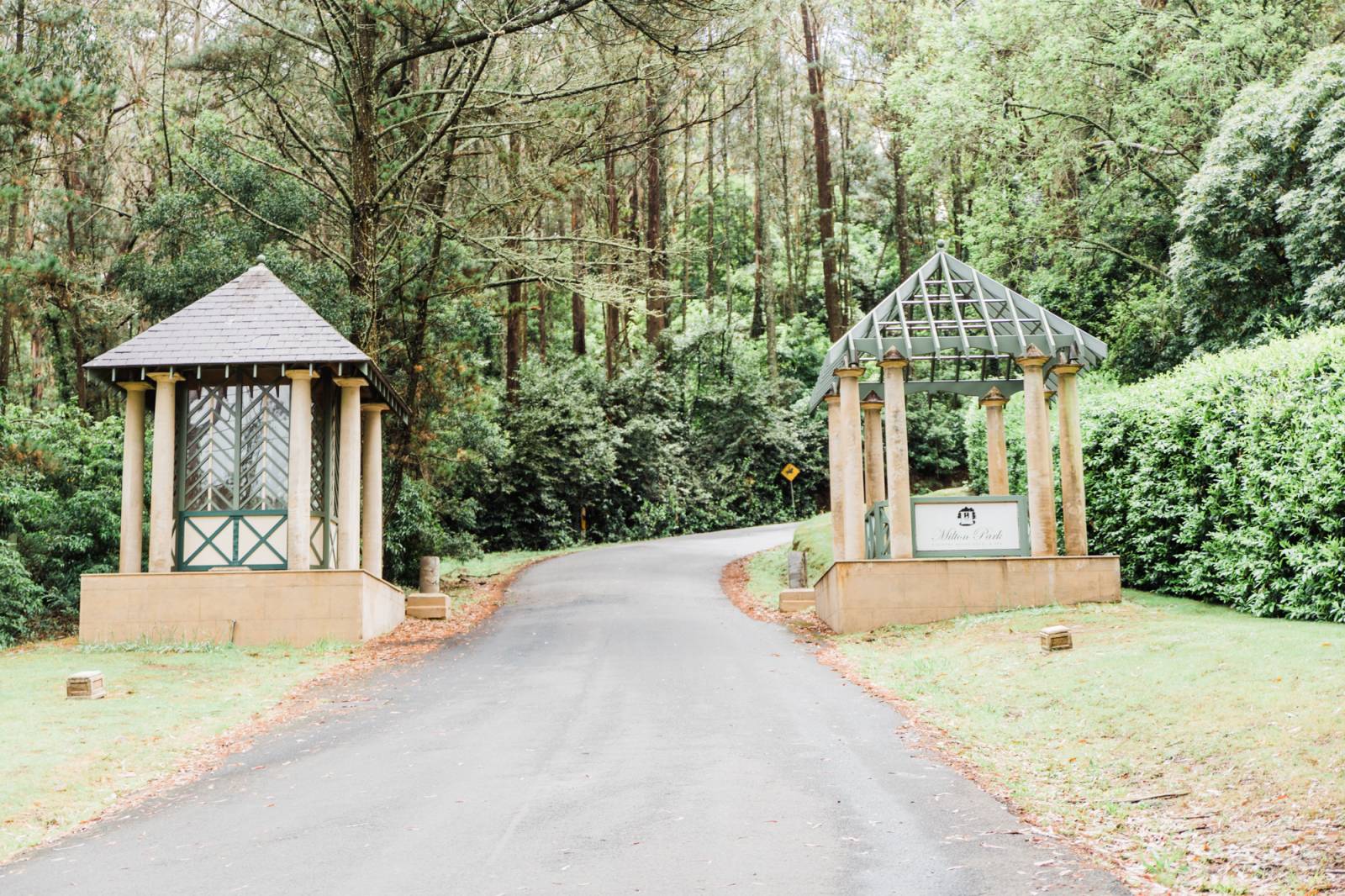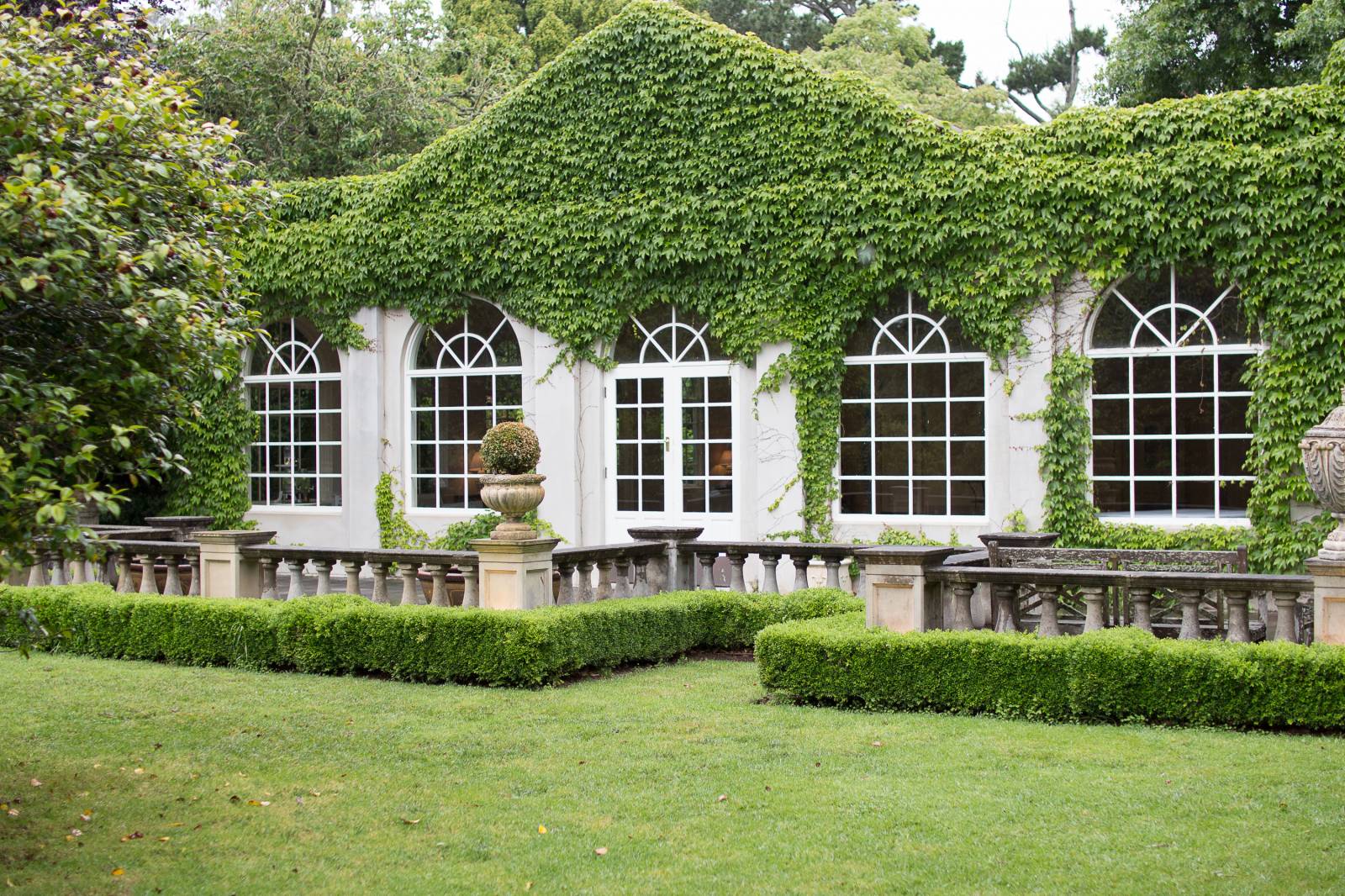 Outdoor Wedding Ceremony Options
Milton Park Estate is renowned for its stunning English designed gardens that are full of beautiful manicured lawns, hedged gardens and pretty little secluded garden rooms with elegant water features that are perfect for your dream ceremony and Bride & Groom portraits after you are announced as Husband & Wife. The Tulip Lawn is a popular choice for most couples as it provides a particularly magical setting, when it is laid out with rows of white chairs on its large expanse of lawn underneath the huge ancient trees.
Milton Park is home to an amazing collection of many rare specimens of trees that were totally unknown in the Southern Hemisphere. Many remain the oldest of their species outside of Europe. They included Oaks, Elms, Beeches, Maples and Rhododendrons. In fact the three giant Weeping Beeches on the lawn to the North of the house are the oldest in Australia and 30 years older than similar specimens in Sydney's Royal Botanic Gardens.
Milton Park's gardens include about 10,000 trees, rare varieties of shrubs and plants, a forest of 5,000 Cypresses & Pines, at least 200,000 Bulbs accompanied by 100,000 forget-me-nots, more than 100 Maples & rare Rhododendrons, over 50 Camellia, nearly 2,000 metres of Box hedging, 400 Rose Bushes, an Avenue of 40 Giant Elms and at every turn and vista, individual specimens of rarity, splendor and historic interest.
If you love lush formal English gardens and Historic Houses filled with art and antiques then Milton Park is for you!
Indoor Wedding Ceremony Options
Milton Park Estate offers as an alternative if the weather is inclement the use for your wedding ceremony of the French Style Bath House... The pool house is always available for a last minute change of plans due to rain, incase your garden ceremony is going to be a wash out.
The conservatory has also been used as a ceremony location but I believe it must be booked prior to your day as it is usually used for the Hotels guests breakfast service. The Conservatory is encircled with windows overlooking the garden, and is attached to The Orangerie with its matching neutral colour and open log fireplace, this room offers itself as the perfect venue for both Summer and Winter weddings.
Getting Ready for your Wedding Ceremony
Every Bride at Milton Park Estate will love feeling like a Princess getting ready for her wedding in the elegant surrounds of the classic styling of the rooms at this hotel... with the understated colour scheme, gorgeous furnishings and art work on the wall, you are sure to get those magical fairytale moment feels.
If you are looking for a big family / bridal party experience then you may want to consider securing either The Carriage House or The Hayloft which are located within the grounds of Milton Park Estate but are operated separately. The Hayloft is beautifully appointed with plush lounges, open wood fire and elegant provincial furniture, the property consists of 7 well appointed bedrooms, all with King size beds, or King singles, 7 bathrooms, elegant lounge room, spacious dining room with soaring vaulted ceilings and fully equipped gourmet marble kitchen.
The Carriage House (pictured) is a beautiful historic building covered in ivy with a massive arched iron gate that consists of 7 well appointed bedrooms, all with King size beds, or King singles, 7 bathrooms, elegant lounge room, spacious dining room with soaring cathedral ceilings, outdoor terrace and fully equipped gourmet marble kitchen. 4 additional bedrooms & 2 bathrooms in the original stables within the Carriage House are also available.
Wedding Accommodation Options
As Milton Park is also a boutique hotel it offers plenty of guest accommodation with 44 luxurious Deluxe Guest Rooms & Suites, most of which overlook the Garden Courtyard Fountain, or the beautiful gardens and rolling paddocks. All of the accommodations feature the comforts and luxuries expected of a fine Hotel with most suites having large baths and open fireplaces and are beautifully appointed with French Provincial and Antique furnishings.
The gorgeous rooms at Milton Park Estate are the perfect place to get ready for your wedding, making it easy for your bridal party to stay all together and so convenient for you to make your way to your ceremony location out in the grounds straight from your room. The interiors at Milton Park Estate make for beautiful getting ready photos and Bridal portraits. The groomsmen can all gather in The Polo Bar where they can chill in the Billiard Room which overlooks the Guest Courtyard and Bronze Chiming Fountain..
Set within Milton Park'sworld renowned gardens, is an amazing private spa... The Wellness Spa features six Private Treatment Suites, Couples Suite, Glamour Room, Vichy Shower and Garden Pavilion. The intimate suites become a sanctuary for you guests, where they are the sole focus. The European-style Spa has highly trained therapists that will provide you and your guests with the ultimate indulgent treatments, utilising only the world's finest products.
Wedding Reception - The Ballroom
The Ballroom with its classic floor to ceiling windows offers beautiful views over Milton Parks rolling paddocks. It provides a formal ambience while creating an elegant, country feel. I love the tall ceilings of this light filled space along with its huge barn doors, floor to ceiling windows and polished wood floors. Its classic white colour scheme is the perfect blank canvas for you to style with flowers and foliage installations.
The Ballroom offers dining and dancing for up to 180 guests with ample room for a Dance Floor, there is a grand entrance foyer to welcome your guests to this private setting tucked away from the main Hotel. If privacy and country elegance is your style then The Ballroom is for you!
Wedding Reception - The Orangerie
The Orangerie is an intimately styled space surrounded with large glass windows filling the room with lots of natural light with views out to the manicured gardens, ancient trees and overlooking the ivy covered French bathhouse. The Orangerie has a creamy neutral colour scheme with rustic wooden cross back chairs, large French rustic chandeliers, open fireplace and separate entrance this room offers itself as the perfect wedding venue for weddings in all seasons.
The Orangerie can accommodate dining for a maximum of 130 guests with a marquee lined in fairy lights installed for your dance floor or for a maximum of 85 guests a 4m x 4m parquetry dance floor can be installed inside the room. The warm glow of light from the Bathhouse windows at night is so romantic, especially when combined with long tables of candlelit guests, centerpieces and amazing food!
200 Horderns Road, Bowral,
NSW, Australia, 2576
enquiries:
02 4861 8100
I have gathered up some wedding inspiration videos for you so that you can get a great idea of what your wedding day hosted by Milton Park Estate will really be like and if it is for you! Enjoy!