WEDDING VENUE INSPIRATION:
Looking for an historic garden setting with a touch of Equestrian elegance for your wedding? Consider taking the drive down to the Southern Highlands to check out Hopewood House Estate. Hopewood House is a wedding venue that has everything you need for your wedding day in the one beautiful location... set just outside of Bowral and on a sweeping estate covered with manicured lawns and hedged gardens, Hopewood House Estate offers amazing outdoor garden locations as well as the rustic elegance of the main reception room in The Pavillion.
Driving up the winding tree lined driveway leading up to Hopewood House, you may get to see the roaming peacocks wandering through the gardens and glimpses of pretty partitioned garden rooms. Once you get to the top of the drive leading to The Pavillion the path opens up to a perfect oval lawn that the driveway circles around up to the big french doorways that lead into the ground floor room of The Pavillion, the Bong Bong Lounge.
Hopewood House is your perfect Southern Highlands wedding venue if you love:
vintage glamour of historic houses,
hedged and manicures gardens for your ceremony,
old world charm and elegance for your formal wedding reception dinner,
casual bar and lounging area,
separate party area/ downstairs bar & dance floor,
exclusive access to your wedding venue,
onsite accommodation for the Bridal party to get ready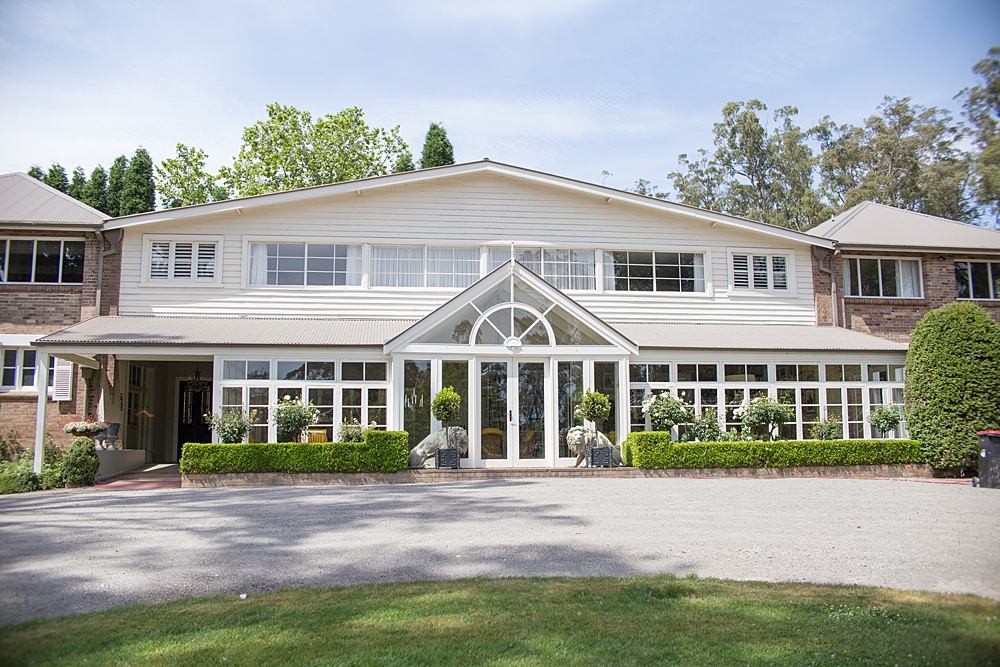 Indoor Wedding Ceremony Options
Hopewood House Estate gives you the option to have your wedding ceremony in the beautiful light filled ground level of The Pavilion, this is definitely a huge plus for a wedding venue... these giant French doors and vaulted windows allow such much amazing natural light into this white room it begins to glow in romance. Opening directly out onto the lush manicured lawn, it is also perfect to just escape the heat in summer... imagine these doors open and a cool breeze washing over your wedding ceremony and all of your special guests
The Bong Bong lounge is also great as a break out room, allowing your guests to let their hair down after all the formal elegance of your sit down reception, letting the party get into full swing the head out for a bit of fresh air. Many couples have their cake cutting ceremony downstairs after dinner before making this room into their dance floor for the night.
Wedding Reception - The Pavilion
Head through the giant french style black entrance doors and head up the wide white staircase were the room opens up to the right into the elegant white paneled wall dining room of The Pavilion. I always love seeing this room styled with the long banquet tables and classic bentwood chairs... it is the perfect elegant blank canvas for your florist or stylist to bring your dreams to life with. The room is lit with beautiful vintage chandeliers and crystal wall sconces that look amazing when draped in fresh foliage hanging down above the crisp white tables.
The white marble fireplace creates a stunning focal point to the room when decorated in floral arrangements or as a backdrop for the Bridal table. The paneling on the wall give that added texture and interest to your photos if you choose to have your cake cutting upstairs next to or in front of the pretty fireplace display. Can you see now why Hopewood House is one of my absolute favourite Southern Highlands Wedding Venues!?
Relaxed Bar & Lounging Area
Hopewood House Estate is a wedding venue that can accommodate the needs of all of your guests. The Pavilion has a relaxed bar area and a casual lounging area upstairs to compliment the formal main dining room. At the top of the stairs if you turn to the left away from the main dining area, you come out into this spacious bar area... perfect for all of the guys wanting to escape from their suit jackets and loosen their ties. This is the perfect "man cave" zone, with everything the men could want to live out their Lord of the Manor fantasy... the styling is masculine and equestrian. I personally think it is super cool, perhaps the girls should take it over and just keep it for themselves!
Down at the end of the area towards the windows the room turns back to open out the back of the dining room along the front windows there is a casual, comfy lounge area which would be perfect for the older family members to set up for the night and get comfortable while the young ones party the night away. This is a great spot for conversations and catching up with friends and family you haven't seen in years.
Wedding Accommodation Options
Hopewood House Estate is an amazing and unique Wedding Venue because it is completely exclusive, they have a limit of only 30 events a year and only host weddings on Saturdays. They will never book two events on the same day, so you have the whole estate to your self, except for your gracious guests who live on site in the main house. You get to enjoy all the 11 acres of amazing gardens and the venue rooms all by yourself, no crossing paths with any other Brides and their wedding parties.
There a two cottages on the estate that are available for you to hire for yourself and your bridal party to get ready in...The Artist's Cottage which has two bedrooms (1 KING | 1 QUEEN ) and the Caretakers Cottage which has 3 bedrooms (1 KING & 2 QUEENS). Hopewood House Estate is a whole wedding weekend luxurious experience.
Getting Ready for your Wedding Ceremony
Every Bride at Hopewood House is given special access to a private bridal retreat area (including bathroom), used for bridal preparations or for their storage. This is the cosy place where you do all of your finishing touches and gather your nerves before being led from the House and out into the garden where your future Husband is patiently awaiting your big arrival.
Whilst you are having wedding photographs taken in the numerous garden locations, your guests are free to enjoy the exclusive access to the 11 acres of manicured gardens, explore the grounds, enjoy canapes, libations (drinks), croquet, and bocce. Your photographer will be spoiled for choice for locations to sweep you off to for your wedding portraits... Hopewood House Estate's gardens are so magical you and your guests will never want to leave.
HOPEWOOD HOUSE ESTATE
201 Centennial Rd, Bowral NSW 2576
enquiries:
0401 058 710
HOPEWOOD HOUSE WEDDING INSPIRATION VIDEOS
I have gathered up some wedding inspiration videos for you so that you can get a great idea of what your wedding day hosted by Hopewood House Estate will really be like and if it is for you! Enjoy!