WEDDING VENUE INSPIRATION:
Looking for a rustic vineyard setting with a touch of Tuscan elegance for your wedding? Consider taking the drive down to the Southern Highlands to check out Centennial Vineyards Restaurant. Centennial Vineyards Restaurant has everything you need for your wedding day in the one beautiful location... set just outside of Bowral and on a sweeping estate covered in vineyards and green pastures, Centennial Vineyards Restaurant offers amazing outdoor locations as well as the rustic elegance of the main dining room.
Driving up the long tree lined driveway leading up to the Restaurant, you get to see the lines of grape vines that produce the amazing wines created and shared in the cellar door and in the Restaurant here at Centennial Vineyards. Heading up the circular driveway and up the sandstone stair case at the front you are met by an imposing door that leads into the entrance to the main restaurant and you are greeted by the warmth of timber, huge ceiling beams and massive cart wheel chandeliers... this space is so perfect all set up with communal long tables for that relaxed intimate feel you want from a rustic wedding venue.
Centennial Vineyards is your perfect Southern Highlands wedding venue if you love:
rustic sandstone European style,

hedged and manicures gardens for your ceremony,

wooden beams & iron chandeliers for your formal wedding reception dinner,

casual bar and lounging courtyard area,

separate party area bar & dance floor,

exclusive access to your wedding venue,

onsite space for the Bridal party to hang out

restaurant onsite so you can try the food before booking
See CENTENNIAL VINEYARDS WEDDING VENUE Listing here...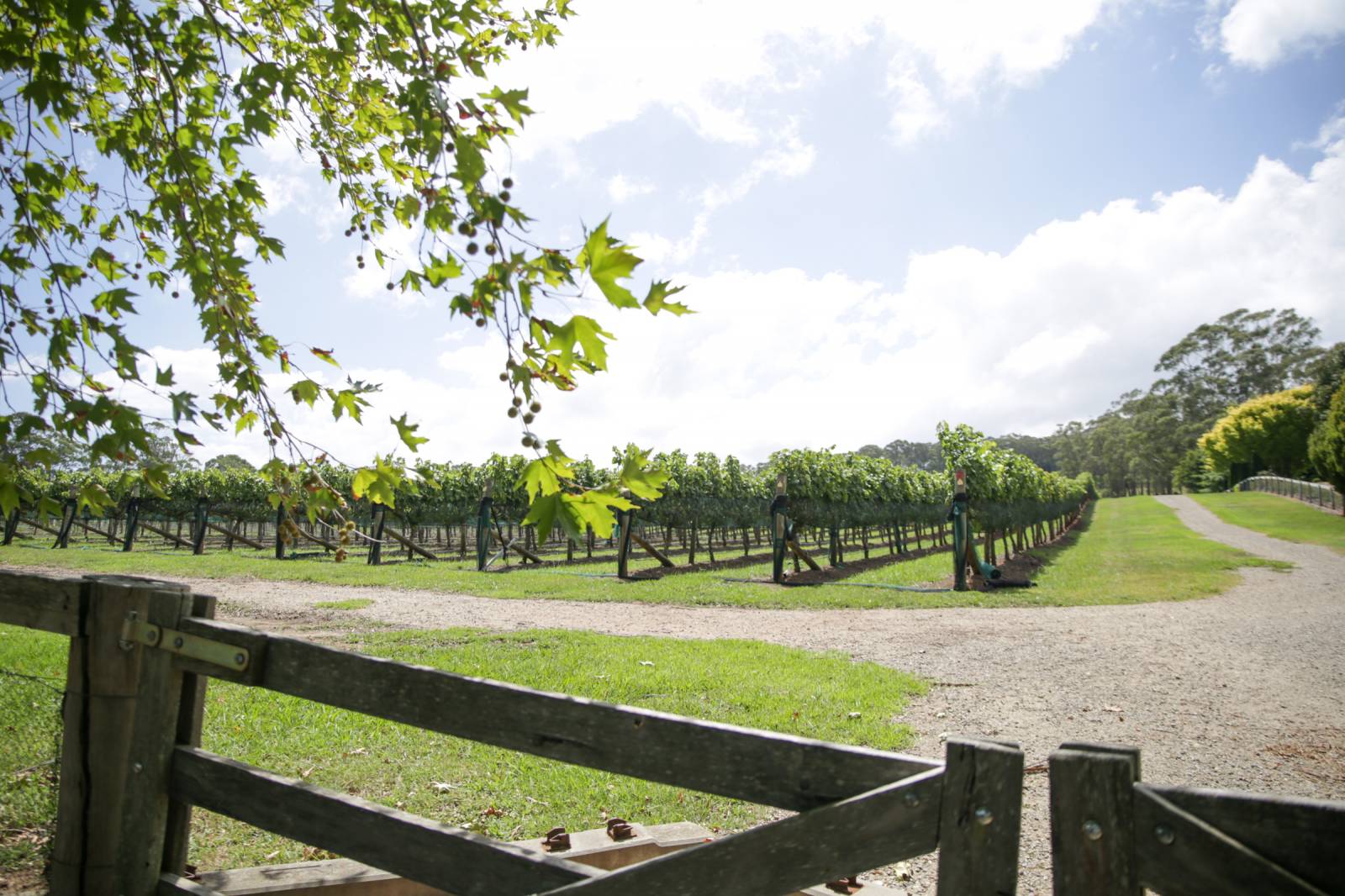 Amazing Food and Wine Menu
Known for its stunning setting amongst the vines, Centennial Vineyards Restaurant offers the perfect destination for lovers of good food and wine. Whether it be indulging in the a la carte dining experience, celebrating a special occasion with friends or stopping by for a glass of wine and the much loved Centennial Tasting Slate.

At Centennial Vineyards Restaurant the focus is on creating the highest standard of food featuring an abundance of fresh, local produce from the surrounding regions, complimenting the food with amazing wine pairings and spoiling your guests with an amazing foodie experience. I love the long tables set out down the length of this amazing room, the super tall ceilings add that grand majesty of feeling like you are dining at the Kings table... you get to be the Lord and Lady of this estate for the day!
Wedding Reception Styling Options
Centennial Vineyards Restaurant is one of those amazing Southern Highlands wedding venues that is beautiful just as she is... with simply adding some green foliage runners to the table, the rustic feel of the room comes through and then its all about the food & wine, the ambiance and your relationships. If you want to take her to the next level and swathe the room with floral displays dripping from the beams or chandeliers, she is up for the challenge too! (:
There are so many amazingly talented locals listed in the directory here at Loved Up & Local, you will easily find one with all the local knowledge you need to pull off the style of your dream wedding. Check out our local wedding vendors here...
Garden Wedding Ceremony
Step through the doors out to the formal styled courtyard and imagine yourself with a glass of champagne, your new husband by your side and surrounded by all of your family and friends on a balmy summers night celebrating your big day. Centennial Vineyards Restaurant has this incredible outdoor area for your guests to enjoy and chill in after dinner, so you are definitely not confined to a stuffy formal dining room once the party really gets started.
This outdoor oasis also provides a lush green lawn that can host your wedding ceremony... it is the perfect location in the late afternoon, as the sun starts to dip below the hills you are surrounded by shady trees to create an intimate garden setting for your I do's. Set up your ceremony location with a floral laden wedding arch and some rustic outdoor chairs and you have your dream country garden wedding, just steps away from your wedding reception location.
Outdoor Wedding Options - Formal Courtyard
The outdoor courtyard can also be an option for your ceremony if you would rather stay on firm ground than on the grass... this location can also have the option to be set up with a marquee as a wet weather precaution or just to provide shade to your Wedding guests. The all important bar and the reception room are then just on the other side of these doors after the ceremony.
Centennial Vineyards Restaurant is definitely a versatile and welcoming wedding venue... no wonder it is one of my favourite Southern Highlands wedding Venues! The food at Centennial Vineyards Restaurant is also a huge bonus in choosing this Venue, it is absolutely worth the drive down to Bowral to enjoy a long lunch here. See my blog post about my lunch at Centennial Vineyards Restaurant here
CENTENNIAL VINEYARDS RESTAURANT WEDDING INSPIRATION VIDEOS
I have gathered up some wedding inspiration videos for you so that you can get a great idea of what your wedding day hosted by Centennial Vineyards Restaurant will really be like and if it is for you! Enjoy!